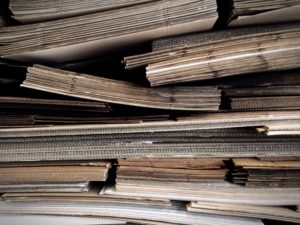 The price of cardboard and corrugated board has risen sharply over the past year.
Kraft, which is a key component in the manufacture of corrugated board, rose by 23% earlier this year, while Old Corrugated Containers (OCC for short) have also been subject to higher costs.
Greater demand seems to be a key factor behind this continual increase.
The use of e-commerce boxes alone is expected to increase at least 10% per year through to 2020, and reports suggest that OCC exports are growing – compounding the supply problems. In some cases Kraft reserves are becoming scarce enough to affect the operation of production facilities.
With such value currently attached to cardboard, how can you make sure that you're not throwing away money with your used cartons?
If your business uses a lot of boxes, or large volumes of cardboard, it's worth remembering that it can be disposed of in ways that still generate value.
Baling your used cardboard is a great way to save on waste haulage charges, and you can earn more money per ton of baled material than for loose.
Alternatively, it can be recycled. Turning your waste cardboard into void fill could help to save you money normally spent on traditional – and expensive – void fill, and on carton and cardboard storage, removal and disposal.
If you'd like more information on how to get the best value out of your cardboard products, call us now on 01268 885885.